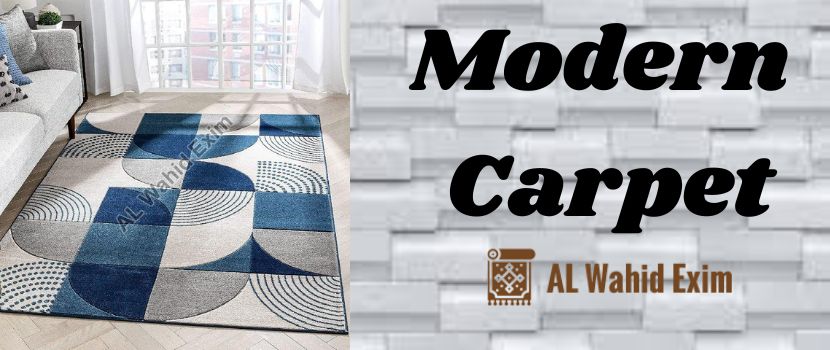 Since ancient times, carpets have been a standard in interior design. They add cosiness, warmth, and elegance to residential and commercial spaces. Due to recent improvements in design and technology, contemporary carpets are now more important than ever.
Carpets from a Modern Carpet Exporter have a variety of qualities that make them an essential component of contemporary surroundings. It encompasses both enhancing aesthetics and offering practical advantages. Here, we examine the benefits of modern carpets and discuss their significance.
Aesthetically Pleasing and Versatile -
Modern carpets are renowned for having beautiful patterns and motifs. It's easier than ever to choose the perfect carpet to match any interior design or décor style. All due to the wide range of colours, textures, and designs they have. Modern carpets provide a wide variety of options to suit every taste, whether you like a minimalistic style or a striking statement piece.
Additionally, carpets give space depth and aesthetic intrigue. They can act as a focal point, uniting many interior design components. Modern carpets are adaptable and may be utilised in a variety of settings. As an illustration, consider living rooms, bedrooms, workplaces, and even outdoor spaces. It enables you to come up with innovative and coordinated design ideas.
Comfort and Insulation -
The comfort they offer underfoot is one of the most important advantages of contemporary carpets. Carpets are a popular option for individuals looking to create a comfortable and welcoming ambience in their living rooms because of their softness and cushioning effect. The soft texture of carpets provides a relaxing tactile sensation whether you're seated on the floor or walking barefoot.
Additionally, carpets are a great insulator, keeping you warm in the winter. They aid in preserving a pleasant temperature within a room by encasing heat and preventing it from leaving. Because it eliminates the need for excessive heating, this insulating feature can result in energy savings. In addition to providing comfort, carpets can make a house or office more energy-efficient.
Sound Absorption and Serenity -
Managing noise levels is essential in the open-plan living and working spaces of today. By absorbing sound waves and lowering echo, contemporary carpets significantly contribute to acoustics improvement. The carpet's thick fibres absorb sound, resulting in a quieter, more tranquil environment.
Carpets' ability to absorb sound is especially useful in high-traffic areas or places with hard flooring like tile or hardwood. Carpets contribute to a calmer atmosphere by lowering noise reflections, which reduces distractions and enhances focus. Because of this benefit, they are perfect for use in offices, classrooms, libraries, and any other setting where noise control is crucial.
Non-Slip and Impact Resistance -
Modern carpets have useful advantages in terms of security and defence. Numerous carpets are made with non-slip underlays or backings, which improve traction and lower the danger of slips and falls, particularly in locations subject to dampness or spills.
In addition to offering a softening effect, carpets are a great option for homes with small children or senior citizens. Carpets can lessen the impact of accidental falls and lessen the possibility of injury.
Additionally, carpets from a Modern Carpet Exporter serve as a barrier to guard floors from dents, scratches, and stains. This benefit not only increases the flooring's longevity but also lowers long-term maintenance expenditures.
Modern carpets play a significant role in interior design since they may increase a space's aesthetics, comfort and safety. Modern carpets provide adaptable and innovative design solutions in every room because of their large variety of designs, and styles. Modern carpets provide several advantages whether you're trying to design a comfortable living room or a chic office. They become a necessary component of contemporary interiors as a result.